EUROBOK TRANSPORT RACKS AVAILABLE FROM STOCK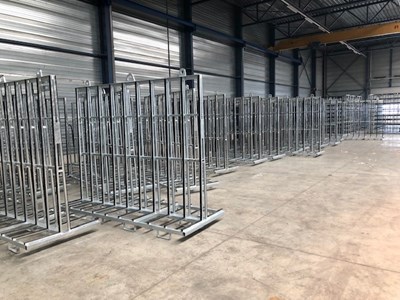 Dear Ladies and Gentlemen,
As you may have heard, Hoza Logistic solutions has taken over EUROBOK.
EUROBOK is a well-known name in the glass and window frame industry and we want to keep it that way!
With this takeover, Hoza Logistic solutions hopes to further expand the market.
Hoza has been developing and producing roll containers, dollies and customised logistic solutions made of metal for over 80 years.
Accordingly, the products of the company EUROBOK have been included in the production programme of Hoza.
From now on, we can supply you with various types of transport racks from stock.
If you have any questions or would like a quotation, please do not hesitate to contact us!
Mr. Wim Hekkens (former owner of EUROBOK) will support us for some time.
Kenneth Draaijer is the direct contact regarding Eurobok activities, you can reach him at +31(0)475 464506 and info@eurobok.nl